Dr. Vijaya Cherukuri – Your Emergency Dentist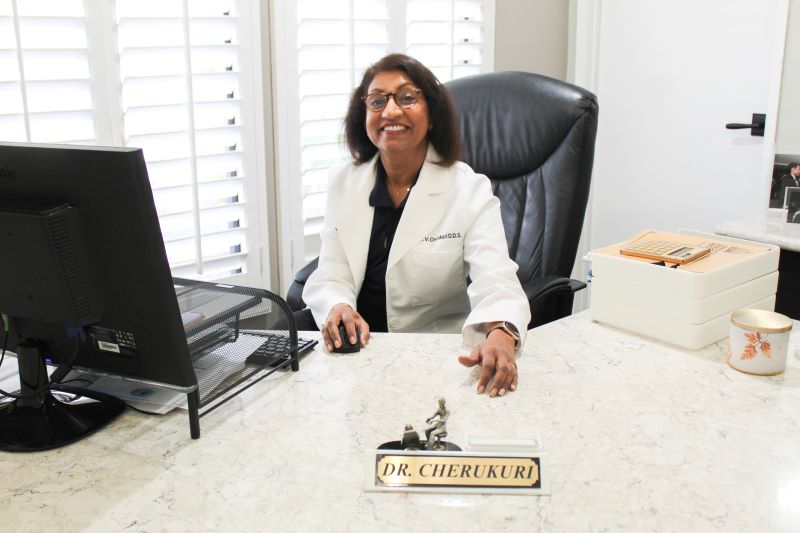 Dr. Vijaya Cherukuri has established a stellar reputation as a leading emergency dentist in Chino, California. Since practicing dentistry, she has dedicated more than 15 years to serving the local community with high-caliber dental treatment.
Her knowledge and skill in the field of emergency dentistry are unparalleled, and she is committed to giving her patients the very best treatment that is possible. Dr. Vijaya Cherukuri is a seasoned professional with high expertise in emergency dentistry. She is an expert in treating dental crises, from tooth extractions and root canals to mending fractured teeth. Dr. Cherukuri is skilled in managing dental crises and is an accomplished cosmetic dentist who offers procedures to enhance the look of a person's smile.
Background and Qualified Experience
After earning her dentistry degree from Osmania University, Dr. Vijaya Cherukuri pursued further education at the University of California, Los Angeles. She is current on the most recent technological developments, processes, and procedures. She has received board certification from the American Dental Association and American Academy of Cosmetic Dentistry and is delighted to give her patients the best possible treatment.
Overview of Dr. Vijaya Cherukuri's Practice
Her dental practice provides a comprehensive variety of regular and emergency dental care services. Root canal therapy, tooth extraction, dental crowns, dental bridges, dental veneers, and dental implants are just some of the dental procedures that Dr. Cherukuri provides.
She is also very skilled in cosmetic dentistry, offering bonding, teeth whitening, and other procedures designed to improve patients' smiles. Additionally, she offers preventative dental services, including deep cleaning and fluoride treatments, to her patients. You may have complete faith that Dr. Cherukuri will give you the most excellent quality dental care no matter what kind of treatment you need.
Types of Professional Dental Care Provided by Smile Artistry Chino Valley
Smile Artistry Chino is the practice to go to if you seek the most expert dental care services available anywhere in the world. Smile Artistry Chino, which can be found in Chino, California, is a dental practice that gives patients a wide range of options for maintaining healthy teeth and gums. Smile Artistry Chino has a skilled and educated team, and they are here to assist you in any way you need, whether it is a comprehensive reconstruction, a root canal, or simply a simple cleaning.
Preventive Care
They strongly emphasize preventive care, and as a result, they provide a wide range of treatments designed to assist patients in maintaining healthy teeth and gums. Regular dental checkups and brushing your teeth with fluoride are necessary for optimal oral health. They provide preventative services such as routine deep cleaning, fluoride treatments, and sealants to assist you in keeping your dental health in excellent condition. In addition, the team offers patient education to facilitate better and longer-term treatment. Smile Artistry also provides tests and risk assessments for oral cancer and mouth guards to safeguard your teeth in an accident.
Cosmetic Dentistry
In addition to that, they provide cosmetic dental procedures that may make your smile seem better overall. Some aesthetic therapies they provide are teeth whitening, porcelain veneers, bonding, or complete mouth reconstruction. In addition, they provide orthodontic treatment, such as Invisalign, which may help you improve your bite.
Restorative Dentistry
Dental implants, which may be used to replace teeth if they are lost, are also offered at Smile Artistry Chino. Their implant treatments include implant insertion, repair, and care. In addition, should you want it, or is necessary, they can provide sedation dentistry treatments to make the visit more bearable.
Emergency Dentistry
Emergency dentistry is a critical service when you have a dental emergency. It's a service that helps you immediately if you have a toothache, broke a tooth, or have another oral health emergency. At Smile Artistry in Chino, California, their experienced team is committed to caring for all kinds of dental emergencies in a thorough and caring way. With their modern building and cutting-edge technology, they can give good care quickly and easily. Smile Artistry can aid you whether you have a severe dental problem or need to get your teeth checked.
Reasons to Choose Dr. Vijaya Cherukuri
Following are some of the great reasons to opt for Smile Artistry and its excellent services:
Great and Positive Patient Experiences
Smile Artistry in Chino, California, cares most about how its patients feel. As soon as you walk into the office, you'll be greeted with a smile and a friendly atmosphere. The staff is helpful and friendly, ensuring you feel safe and comfortable. The dentist is kind and compassionate, and they spend the time to clarify your viable alternatives and answer any concerns you may have. They use the newest technology and tools to treat patients.
Compassionate Care
At Smile Artistry, compassionate treatment includes aiding the patient's loved ones. During a patient's treatment, family members are frequently put in a position where they must make challenging choices; a compassionate care team can assist these individuals in better comprehending the treatment process and determining which choices are in their loved one's best interest.
Additionally, the team assists the patient in comprehending their diagnosis and the several therapy courses open to them. In addition, the team gives patients access to services and assistance not provided by the hospital system. This involves providing the patient with connections to community services and support organizations if and when such connections are required.
Practicing Professionalism
At Smile Artistry Chino, professionalism is about giving customers the best possible experience. All staff has been trained to treat customers with kindness, knowledge, and respect when they talk to them. They always put the customer first and make the place warm and friendly. Smile Artistry Chino works hard to keep up with the newest techniques and technologies in cosmetic dentistry. All staff members have a lot of training and experience, and they always know what's going on in their field.
The practice is also committed to giving clients the best care possible and giving them a safe and secure place to be. All tools and equipment are sterilized, and all safety rules are followed. Also, the staff is dedicated to providing excellent customer service, which includes responding quickly to questions, following up on time, and having a friendly and professional attitude.
They know loyal customers are essential to any business's success, so they work hard to build long-lasting relationships with each client and the dentist in Chino Valley. Practices of professionalism at Smile Artistry Chino ensure that every time a client comes to the office, they have a good experience. The staff always tries to go above and beyond what customers expect because they want to give the best care possible.
Conclusion
Dr. Vijaya Cherukuri and her Smile Artistry team are always ready to handle any dental emergency, from pulling teeth to doing root canals. The team is always on call, so you can be sure they'll be there when you need them. Their dental professionals provide a variety of services to handle any dental emergency, allowing you to be sure that your needs will be met.
Please login to publish a comment.
Comments (0)