ClearCorrect Braces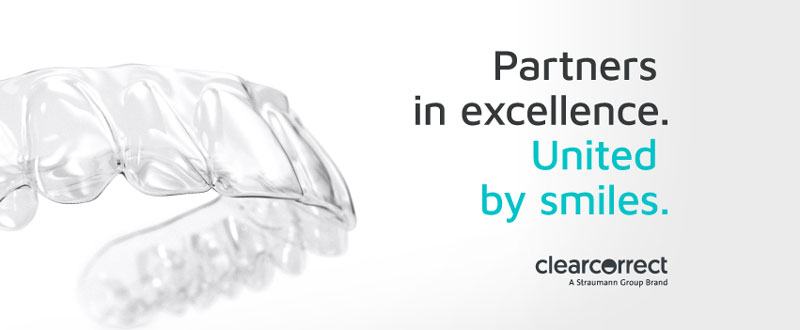 Are traditional braces not an appealing option anymore? We're right with you on this. After all, when you have effective and advanced options like ClearCorrect braces within your reach, why settle for painstaking traditional methods?
Our Chino Valley dentist recommends the advanced clear aligner system that promises to straighten teeth and give you a beautiful smile. This new aligner system is a custom-made, clear, and removable set of aligners that gradually move the teeth into place, a wee bit at a time. They're an especially popular choice in painless dentistry approaches because they're discreet, barely uncomfortable, and nearly invisible. You can remove these braces far more conveniently than metal braces when needed.
Dynamics of ClearCorrect Braces
If you're ready to try this aligner therapy, our dentist in Chino Valley has the perfect ClearCorrect braces for you. To complete this therapy, you will have to undergo four phases, in which our Chino Valley dentist will provide you with a new set of invisible aligners. Generally, a patient must wear each new set for at least four weeks. Moreover, the time allotted between each new phase allows the patient and the dentist space for flexibility and more control.
ClearCorrect braces are generally invisible, and you may wear them constantly. However, when it is time to floss, brush, eat or drink, you can easily remove the aligner system so that it does not hamper your activity. The invisibility of the aligners is appealing because it increases the aesthetical value for patients. Since the aligners are barely noticeable, they do not alter the wearer's appearance or obstruct one's daily routine.
The new set of aligners you receive in each phase brings noticeable results. You will find your teeth aligning and adjusting with the braces till you achieve a beautiful smile. Our Chino Valley dentist usually recommends periodic check-ups to evaluate the performance of the aligners. The treatment period with ClearCorrect aligners varies per person and generally depends on the misalignment level. For some patients, the treatment may last a year, while for others, perhaps two years.
ClearCorrect Braces- A Closer Look
ClearCorrect braces are an effective and easy solution for those dissatisfied with their smiles due to minor or major misalignments. ClearCorrect braces are an invisible aligner system that relies on custom-crafted, almost transparent trays to fit over the wearer's teeth. Patients are required to wear each new set of aligners for at least four to six weeks. At the end of each phase, your dentist will replace the previous plastic aligner with the new one, next in the series of treatments.
Although made of plastic, almost similar to retainers in appearance, these aligners exert enough pressure on the targeted teeth to move them into the proper place. However, with advanced technology, the lab techs ensure the aligners do not cause discomfort while the patients wear them and are comfortable throughout the experience.
Wearing all the series of ClearCorrect Braces in the treatment is imperative to help move the teeth from misaligned to perfectly aligned. Our Chino Valley dentist usually hands the entire set of aligners to the patient at the start of the procedure. This saves them the inconvenience of visiting the dental office each time they switch the aligner to the next one.
Gone are the days when patients had to wear metal wires for days on end to achieve the smile they desired. With the advanced clear system technology, you can fix crooked teeth discreetly. The process for ClearCorrect Braces starts with a consultation with our dentist in Chino Valley. After discussing the treatment options for you, the dentist will take impressions to create customized plastic aligners. The dentist requires the impression of every patient's teeth and gums to facilitate the lab in creating aligners that will align your teeth into the correct position.
Is ClearCorrect better than Traditional Orthodontics or Invisalign?
Are you debating between ClearCorrect braces vs traditional orthodontics? Then here's what you need to know. Traditional orthodontics are undoubtedly quite effective at straightening the teeth and have been an age-old treatment option. They're also now more comfortable than they used to be, but there are still certain drawbacks. For instance, in the case of traditional orthodontics, the dentist attaches them to the patient's teeth, adjusting them periodically if needed. Moreover, a patient cannot remove the metal aligners until the treatment has run its course.
Secondly, traditional orthodontics is not very compatible with one's oral hygiene. You will find a hindrance in your ability to maintain oral hygiene, eat, drink, or even speak. Secondly, metal wires are not very attractive to look at, and if a person lacks the confidence to carry them well, they may find it uncomfortable. ClearCorrect Braces are nearly invisible and do not make a visible change to the patient's profile. Secondly, they are also custom-crafted, so the aligners are irritation-free. They're also removable and allow the patients to remove them when conducting oral hygiene, eating, drinking, or speaking activities.
As for Invisalign, they, too, are nearly similar to the ClearCorrect aligner system. In both cases, the patients get custom-fitted and clear, removable aligners. They have to provide fabricated impressions of their gums and teeth to the dentist to be forwarded to the lab. ClearCorrect and Invisalign are prospective treatment options for crooked, underbites, overbites, and spaced-out or crowded teeth. The only difference between the two is the clarity they offer. ClearCorrect wins in this regard, but they're virtually invisible, and since they're also minimally invasive, they're very comfortable to wear. Moreover, ClearCorrect aligners are clouding-resistant and more long-lasting despite long hours of wear.
Book Your Consultation with Our Chino Valley Dentist
If you're ready to get your magazine-worthy smile, then you need to book your appointment with our Chino Valley dentist today. Our ClearCorrect Braces are custom-crafted, non-invasive, and highly effective in aligning teeth.
With our expert dentists to guide you through the process, you can rely on 100% satisfactory results. Reach out to Smile Artistry Chino for your invisible aligner system today!
Please login to publish a comment.
Comments (0)